SENCORA 37M
Spearheading our range of semi-custom yachts, the SENCORA 37 has established new references in terms of conception, construction, and enjoyment. Because of its dimensions, it is positioned to challenge motor yachts in a superior market segment.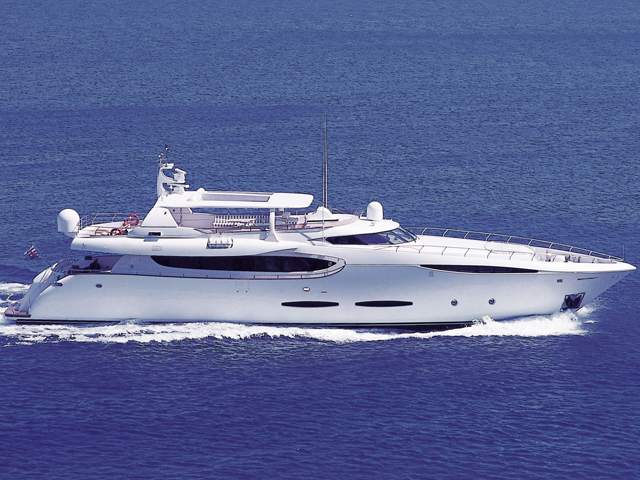 Unique on the market, it was created in association with the naval architectural office of DIXON Yacht Design. By combining ideas of "open" style and fly bridge yachts, the profusion of the outside spaces is impressive. By using the advantages of modern ship construction, salon benefits from large floor to ceiling windows allowing a profusion of luminosity, while remaining comfortable in layout. The lower deck cabins, and bathrooms are exceptional in terms of size of the installed portlights. The crowning jewel, is the glass pilothouse with a 360 degree view of the sea.
The objective of this innovative open design is to be in perfect harmony with the environment, the sea.
The internal volumes are the result of the full width use in forward section, and increased by the presence of the glass pilothouse on the superior deck. So all the spaces benefit by obtaining considerable space from this arrangement. The large beam, allows several options of organization, in 3, 4 or 5 cabins, with a space for 7 or 8 crew berths forward. Because of its configuration and accessibility, the galley, lower and upper pantries, allow the crew to work easily, efficiently and unobtrusively to prepare dinner for the guests.
The conception of the fly bridge shows our will to organize the structure of the SENCORA 37 for different, additional functions. Here on this deck, open air par excellence, or fun in the Jacuzzi, sunbathing and barbecue grill in the day or aperitif in the evening around the bar.
Other particularity, the fly bridge communicates on the same level to the forward dining and sunbathing area. The glass pilothouse which facilitates this continuation between spaces can too adapt according to the time and weather, by being opened for coastal cruising or closed for long trips.
Our semi-custom construction practise allows us to answer the requirements of our customers, notably in terms of furniture arrangement, to fulfil their individual desires.
TECHNICAL SPECIFICATIONS

SENCORA 37M PHOTOS